19 Colinton Road, Edinburgh EH10 5DP
0131 4528453   www.biabistrot.co.uk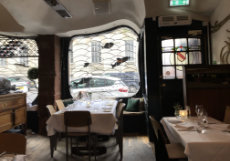 The Bill
Set Lunch
2 courses; £10.00 | 3 courses £12.00
A la Carte
Bites: £32.50 - £3.00 |Starters: £6.00 - £7.50 | Mains: £13.95 - £23.50 |  Sweets: £5.00 - £5.50
The Score
Cooking 7/10 | Service 4.5/5 | Flavour 4.5/5 | Value 5/5
TOTAL 22/25
When you reach a certain stage on your journey through the years, you realise that life is just not fair. For example, looking in the shaving mirror, I see no resemblance to George Clooney. The current Mrs Johnston has been known to remark on this too. (A sense of self preservation ensures that mutterings about Amal never leave my lips in her presence.)
And it's not fair that my neck of the woods has no restaurants worthy of the name, with due respect to the estimable Roseburn Café which featured a couple of weeks ago. Work started on such a project last year, but seems to have ground to a halt. And whether or not it's fair, it's nothing short of miraculous that Roisin and Matthias Llorente can produce so many classy dishes from a kitchen that's about half of the size of my (fairly compact) one, and have been doing so for a good number of years now.
It would be wrong to call this a neighbourhood restaurant, though it is a couple of miles from the centre of town, in Morningside. Don't let the Colinton Road address confuse you. Turn right at Holy Corner and they're about 25 yards up the road. But bistro is the correct word. The lovely Irish-French owners named their place for bia, Irish word for food, and bistrot, French spelling of bistro. So, about 9 or 10 years ago Food Restaurant was born.
L and I lunched with Long Tall JK and M. I arrived first, squeezing into what was a single fronted shop. Not a centimetre is wasted, with additional tables in the basement. One gets the feeling that the space saving architect had to be reminded at the last minute to add a kitchen to the design.
I never take notes, but I photograph the menu to remind me what we put in our gobs. For some reason I seem to have captured only the lower quarter of the daily specials blackboard. My memory is therefore a little hazy, and nothing to do with the (very reasonably priced) drink. The pricing generally is extraordinary. A 3 course set menu is yours for £12. From the a la carte, excepting steak, the dearest plate is £17.50. Is that why the place was full? Nope. More to do with the quality, the buzz and the generosity. Nor are they stinting on ingredients. Starters included salt roe deer and a generous chunk of stuffed lamb which the menu described as lambchetta. Soup of the day was highly praised. These were all merely very good.
To the main event. Three out of four of us were having (different) meat dishes. How would you like it cooked? came the standard question. With fifty covers on a Friday lunch time, one would be prepared to cut a bistrot kitchen a little slack, would one not? Absolutely no need. The rare dish and the medium rare were perfect. I, on the other hand have changed my ordering practice of late. While Brexit means Brexit, as we all know, interpretation of medium rare in my experience can vary hugely. I asked for my lamb to be pink but not bloody, and it came right on the money. Then a small jug arrived. Mint sauce for the lamb. I generally hate mint sauce, an English abomination that can be sweet or vinegary, and masks the taste of good lamb (or masks that of poor quality stuff, which is probably the point). This, however, was a wonderful lamb gravy, gently perfumed with just the right amount of the herb. Sublime. The fish eater had coley, which came with leeks, potatoes and parsley pesto. An (unnecessary) side of garlic and rosemary potatoes was a fine example of that often poorly executed dish. There was a bit of activity as samples of each course were passed round (the one condition of coming on a review meal with me). Thereafter a contented silence fell for a bit, interspersed with some gentle oohs and aahs. There was no room for a sweet. You will not be surprised to hear that the coffee was good, and we were full.
I had met Roisin briefly a few years ago. I was doing a recce on a new place: she was checking out the competition. Astonishingly, she remembered me and, quite rightly, scolded me for taking so long to visit. Don't worry, dear lady, we'll be back soon.
March 2019