Two Fat Ladies in the City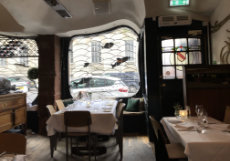 The Bill
Table D'Hote Lunch
2 courses; £16.00 | 3 courses £19.00
Table D'Hote Dinner
2 courses; £18.00 | 3 courses £21.00
A la Carte
Starters: £5.00 - £11.00 | Mains: £16.00 - £22.50 |  Desserts: £6.50 - £8.50
The Score
Cooking 7/10 | Service 5/5 | Flavour 5/5 | Value 5/5
TOTAL 22/25
What a delight. It's Thursday in Glasgow. The sun is shining. I have met up with S, a chum from teenage years. We have sampled a gin from some part of Scotland, then strolled up the hill to Blythswood Street. The city's hills seem less steep these days - am I getting younger? And then, at the top, by way of reward, into Two Fat Ladies in the City.
Ryan James will soon be celebrating twenty years at the head of the organisation which boasts The Buttery as well as this place. Nothing if not far sighted, he was gently laughed at when he took over The Buttery. Finnieston? It'll never catch on, darling. Ha!
I enquired of S whether she had been here before. No, she replied, I've been to the other one, meaning the outpost at the very far end of Argyle Street. Memory is short in the transient world of the restaurant business. Unless, that is you have a reviewer with a file of fascinating facts. Many of you may believe that the name has some connection with Mesdemoiselles Dickson-Wright and Paterson. Not so. It's probably far fetched to suspect that my reader is a bingo aficionado. The original Two Fat Ladies began life at 88 Dumbarton Road, two fat ladies being the bingo caller's moniker for the number. Eagle eyed readers will have noted that it is incorporated in the restaurant's telephone number. The phone number of the sister ship ends 8188. Enough trivia for one day.
The dining space is simple but elegant. The menu follows suit. At lunch time it has four each of starters, mains and desserts. If you are looking for a chef to be wowing you with technical wizardry, or sending out dishes which scream look how clever I am, this may not be for you. If on the other hand you are looking for a lunch of great ingredients, maximum flavour and no shortage of skill, then come here and be happy. Goats cheese may feature on a lot of menus these days, but in a tart with butternut squash and chestnut it is something special. Likewise, a combination of grilled sardines and salsa verde is not new, but the delicate sauce and an unusual dressing on the accompanying leaves raised it up several notches. More fish for mains, both salmon and sea bream served with beautifully crisped skin. Lovely fresh fish (I seem to recall Mr James has or had an interest in a wholesale fish merchant, so unsurprising). But the accompaniments were stunning, a parsnip and potato crunch with mustard seed cream with the former, lemon and garlic cabbage and pancetta cream with the latter.
It may sound dull to eat the ubiquitous sticky toffee pud at a review lunch: but as it's on everyone's menu, it is in fact a good bellwether.  This one, like the rest of the meal was of the highest standard. And I almost forgot to mention the lovely Gosia, our Polish waitress. The day was sunny enough - with this lady you have to wear shades.
With lunch being out of fashion - only two tables occupied on a Thursday - I do fear for the restaurant industry. I implore the good citizens of Glasgow to beat a path to Blythswood Street on a more regular basis. You'll be very  glad you did.