It's amazing how one thing can lead to another. And even more amazing (and wonderful) to discover a kindred spirit who shares my love of completely useless pieces of information, and the sharing thereof. Some of you may know that my culinary repertoire has extended to the field of teaching. The Retired Big Financial Whizz has signed up to the School of Tom Cooks! and we are having fun of a Tuesday morning. As a bonus I have been throwing in a few of the world's easiest desserts, godsends to me in the past when I was even more limited on puds than I am now. On week one we did the first of today's "recipes". The main beneficiary of this course is Mrs RBFW, who now gets the occasional night away from the stove. It was she who asked me if I knew the tale of Bernardino Luini and Amaretto. Just in case any of you have missed it, make yourselves comfortable and I'll begin.
Our Bernardino was an artist of note, a pupil of Leonardo da Vinci. In 1525 he accepted a commission for a series of frescoes on the life of the Virgin and Christ in the sanctuary of Santa Maria dei Miracoli in Saronno in Lombardy. Seeking a model, he found a beautiful widowed innkeeper. History does not relate her name; however, she was so entranced with the frescoes, and so delighted with her representation as the Madonna, that she wished to make a gift for Bernardino. The story goes that she steeped apricot kernels in brandy, thus creating Amaretto di Saronno, the first version of the drink now marketed as Disaronno. What a wonderful story. If it's not true, it should be.
As with many sweetish liqueurs (despite the name, which means, "little bitter") Amaretto can be whipped into cream and can be a flavouring for wonderful cakes such as our second recipe. The first is simplicity itself.
Affogato di Amaretto (affogato means drowned)
Ingredients
Vanilla ice cream; flaked almonds (allow about 1 tbsp per portion); amaretto.
**************************************************
Lightly toast the almonds. This is best done in a dry frying pan on a hot stove. Keep a close eye on them. They will go from nearly done to burnt in seconds. You want them light brown all over. Allow to cool. Sprinkle over the ice cream, and add a good slug of amaretto. It never fails to impress.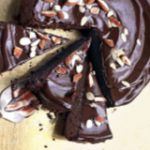 Almond Amaretto and Chocolate Torte (Serves 10)
Recipe © delicious. magazine. Photograph © Maja Smend – www.majasmend.com
I am hugely grateful to the lovely Karen Barnes, editor of delicious. magazine, for permission to use this recipe and photograph (above). I've been investigating sundry food magazines over the past wee while and delicious. (no, not my bad typing, it doesn't have a capital "D" and it does have a full stop at the end) is head and shoulders above the rest. Their recipes really do work. For more information (and some great subscription offers) see www.deliciousmagazine.co.uk
Ingredients
For the cake: 200g unsalted butter, plus extra for greasing the tin; 200g good dark chocolate (recommended 70%), roughly chopped; 150g ground almonds; 6 medium eggs, separated; 180g golden caster sugar; 50ml amaretto. For the ganache: 200g dark chocolate, as above, roughly chopped; 100g double cream, at room temperature; For garnish: 30g whole almonds, skin on, sliced; 20g flaked almonds.
***********************************************
Grease the base of a 23cm loose-bottomed cake tin (preferably springform) and line with baking paper. Preheat the oven to 180°C/fan 160°C/Mark 4. In a large saucepan, melt the butter and the chocolate over a low heat. Stir in the ground almonds and allow to cool for 5 minutes or so. Beat the egg yolks and sugar until pale and creamy. With an electric whisk this will take about 5 minutes. Stir in the chocolate mixture and combine well. In another bowl whip the egg whites (with a clean whisk) to stiff peaks. Stir the amaretto into the chocolate mixture then fold in the egg white. Remember your basic folding technique. Spoon a large spoonful of egg white into the chocolate mix and stir in to loosen the mixture. Thereafter fold in the egg white carefully, using a large metal spoon. You are trying not to lose air from the mixture. Put the mixture into the cake tin and bake on the middle shelf for 35 – 40 minutes until the cake is risen and firm to the touch. Leave in the tin for 15 minutes, then turn on to a wire rack and allow to cool completely.
To make the ganache topping, melt the chocolate in a heat proof bowl set over (not touching) a pan of barely simmering water. Chocolate needs to be melted gently, otherwise you risk altering the consistency. Remove from the heat, allow to cool a bit for 5 – 10 minutes, then stir in the cream thoroughly. Voilà your ganache. Set aside to cool, covered with clingfilm touching the surface. Toast the whole almonds and flaked almonds in a dry frying pan, as for the recipe above, until lightly browned. Remove and, yes you guessed it, leave to cool. Spread the cooled ganache over the cake, then decorate with the almonds. If at the first attempt, your torte looks anything like the one in the picture you will win a prize (but not from me).